Be Cavity Free!
Can We Prevent Dental Caries In Children?
In spite of the current emphasis on preventive dental health, many children are still affected by dental caries. In fact, dental caries is the most common chronic infectious disease of childhood. By the age of 6, more than 40% of U.S. children are affected by this disease. Early childhood caries remains a severe problem in some cultural and ethnic groups. All told, more than $40 billion is spent each year on prevention and treatment of dental caries in the U.S.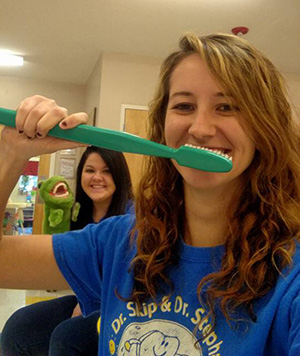 What is dental caries?
Dental caries is a lifestyle-dependent infectious disease.
The lactic acid produced by the cariogenic bacteria causes tooth structure to dissolve. It destroys dental enamel – the hardest material in the body. When dental decay spreads to the nerve and pulp tissues of the tooth, the result can be dental pain, dental abscess, or facial cellulitis.
What causes dental caries?
The oral bacteria responsible for dental caries belong to the streptococcus mutans and lactobacilli groups of bacteria.
These bacteria, which cause dental caries, are able to metabolize sugar, produce a destructive lactic acid, and produce a sticky dental plaque. This destructive acid dissolves the mineral structure (hydroxyapatite crystals) of teeth. If the tooth mineral continues to be lost because of acid attack, the surface of the enamel will eventually be cavitated, producing a cavity.
The bacteria which cause caries are usually "passed on" from mother to infant, as early as 10 months of age. The danger of infecting an infant's teeth is increased if the mother already has the caries disease herself.
Children who frequently consume refined sugar products, such as candy and soft drinks, have a high risk of developing dental caries. Sucrose, a type of sugar, is therefore an important contributor to dental caries
The newly erupted teeth of infants are the most susceptible to caries because they are not yet fully hardened (calcified). Calcium and phosphate in the saliva help fight dental caries by gradually "maturing" the tooth enamel.
How can parents identify dental caries?
The first sign of dental caries is a white spot "lesion" on the enamel surface of the front teeth. These are white, chalky areas, close to the gum line. These decalcifications are caused by bacterial acid, and directly precede irreversible loss of tooth structure (a cavity).
By "lifting-the-lip" parents will be able to see this early indicator of caries disease.
Parents should get these areas examined by a dentist as soon as possible, so that treatment can be initiated, if necessary. The white spot lesions can be "reversed" (remineralized) by the application of fluoride – if the problem is recognized early enough.
Active cavities usually have a golden-brown color.
How does fluoride prevent dental caries?
Fluoride contacting the teeth forms a layer of calcium fluoride-like material on the surface of the tooth enamel. When acid from oral bacteria accumulates on the teeth, fluoride is released from this protective layer. This released fluoride then aids in hardening (remineralizing) the enamel.
Fluoride inhibits the ability of bacteria to metabolize sugar, because it interferes with the way bacterial enzymes work.
Fluoride inhibits demineralization of enamel, because it inhibits the breakdown of carbonated hydroxyapatite by bacterial acid.
How can parents prevent dental caries?
Parents can modify oral hygiene techniques, depending on the child's age. For small infants, the gums need to be cleaned once or twice a day with a piece of clean gauze. This will help to establish a healthy oral environment for the baby teeth. Infants should be introduced to the toothbrush around the age of one.
Parents should not put children to sleep with a bottle containing any liquid other than water. Parents should encourage their infants to begin drinking from a cup around their first birthday.
Parents should help brush their children's teeth every day, after every meal.
Parents should floss their children's teeth if there are no spaces between them. The top priority areas are between the molars.
Parents should not let their children drink fruit juice, milk, tea or sweetened drinks from a bottle or "sippy" cup, since this prolongs the exposure of teeth to harmful sugar. All juice should be limited to specific times and water given if your child is thirsty between meals.
Parents should provide healthy, balanced meals for children. They should limit the amount of sugar-laden foods and snacks in their diet. Plenty of healthy snacks should be available for children. Cheese products actually fight dental caries.
Parents can help make children's teeth more decay-resistant by using an ADA-approved children's toothpaste. Place only a pea-sized drop of toothpaste on the toothbrush. Until a child is 3 years old, parents should only use baby tooth cleanser – to avoid causing fluorosis discoloration of the adult teeth.
Children taking oral medications should have their teeth cleansed after each dose of medication. Nearly 100% of children's medications contain sucrose, which can increase the risk of developing dental caries.
Children should have their first oral/dental health evaluation by the age of 12 months, or within 6 months of the eruption of the first tooth.
Parents should consider providing children with xylitol-containing chewing gum, which can help prevent dental caries.
No Cavity Plan for Children
We have prepared this information to help you understand your child's preventive care program. If implemented, these are the aspects of home dental care that can help assure that your child will have a lifetime of dental health. If you have any questions please do not hesitate to ask a member of our pediatric dental team.
Hygiene
Brushing
Parent must take active role.
At least two times per day, especially at night.
Timing-egg timer or a song on tape recorder in bathroom (1-3mins).
Toothpaste-any brand with ADA seal of approval. Very small amount.
Brushing motion-back and forth motion with brush on an angle.
Make sure to spit toothpaste out.
Disclosing tablets one to two times per month as "pop quiz".
Flossing
If there are no spaces between the teeth, this is very important.
Flossing aids can make flossing easier for you and your child.
Diet
Liquids
Water is the safest and best thing for your child to be drinking.
Try to limit juice, milk, tea, soda, etc. to specific meal times.
Sugar free drinks can be an excellent alternative.
If possible, have your child drink a little water after meals and snack times.
A specific water bottle (his or her own) can be very successful.
Foods
Foods containing carbohydrates and starches (chips, crackers, cereal) can promote tooth decay.
The stickier the food, the longer it remains on the teeth, the greater chance of tooth decay.
Sticky foods like raisins and fruit chews remain on the teeth for a long time.
Shop smart! Do not routinely stock your pantry with sugary or starchy foods.
Provide a balanced diet, and try to save foods with sugar and starch for mealtimes only.
Frequency
Remember that it is the frequency that the food or drink comes in contact with the teeth that play an important role in causing decay.
Try to eliminate "grazing" behavior or frequent snacking or drinking (except water).
Fluoride
Fluoride is very important for your child's primary and permanent dentition. It is important to understand that there are two types; systemic fluoride and topical fluoride.
Systemic
this is fluoride that may be artificially or naturally in your drinking water. If it is not, or you are drinking bottled water without fluoride, your child's diet should be supplemented with fluoride prescribed by us or your pediatrician.
the amount of fluoride dose is specific to the age of your child and the amount of fluoride that is already in his/her diet.
this type of fluoride is helpful in making your child's permanent teeth stronger and more resistant to decay.
Topical
this is the fluoride that your child receives through fluoridated toothpaste, fluoride swish at school, fluoride treatments in the dental office, or home fluoride rinses.
it is important that your child receives this fluoride to make the teeth in his/her mouth stronger.
this type of fluoride comes in contact with the teeth and can actually heal microscopic breaks in the enamel.
we may recommend a specific at home topical fluoride treatment for your child based on age and risk of getting tooth decay.
Download No Cavity Plan for Children
No Cavity Plan for Teens
A bright smile and fresh breath – that's what a healthy mouth means. It also means you can talk and laugh with confidence. Here are facts, ideas and tips on keeping a healthy smile in your teenage years.
What You Need To Know about Your Dental Health
FACT 1: You have not outgrown tooth decay. In fact, dental decay may be more of a problem for you during the teen years than it ever has been before. We see more cavities between our teenagers teeth than we see in our younger children.
FACT 2: Gum disease (gingivitis) is a risk to your dental health. It is also a threat to your appearance. Gum disease causes red and swollen gums, bleeding gums and bad breath.
FACT 3: You will have all your permanent teeth with the possible exception of your wisdom teeth (third molars). During these growing years, your face and jaws will undergo many changes. You can be healthy and attractive through these changes by taking good care of your teeth and visiting your pediatric dentist.
FACT 4: As pediatric dentists, we love seeing our teenage patients. Unfortunately, developing multiple cavities during these teenage years will usually result in referral to a general dentist. General dentists or "adult" dentists, treat multiple cavities on permanent teeth more frequently then we do.
How You Can Keep a Healthy Smile
It is up to you! What you do and do not do is important. Here is a checklist for a healthy smile:
Eat intelligently! Life is going to be hectic now. Choose fresh fruits and vegetables instead of junk foods when you eat on the run.
Hydrate intelligently!! Meaning…drink plenty of water. Water is the most healthy thing you can be drinking. (Flavor it with sugar-free flavorings…Mio, Crystal Light, Sugar-Free Kool-Aid) Sodas, tea, and sports drinks should be limited.
Snack smartly. Be careful of snack foods containing sugar; they can cause damage to the teeth and gums.
Practice good prevention at least twice a day. Brush effectively using a fluoridated toothpaste. Floss to prevent gum disease and tooth decay on the sides of the teeth. This is the MOST important time to establish proper oral hygiene techniques. DO NOT FORGET TO FLOSS A COUPLE OF TIMES A WEEK!! WE CAN NOT EMPHASIZE THIS ENOUGH!!
Keep up with your dental checkups. Tooth cleanings, fluoride treatments and sealants are important preventive services for you.
Wear a mouth guard for any sport or activity in which your mouth can be hit. Wear Sunscreen!!!!
Buckle up in the car. A seat belt and shoulder harness can keep your face from striking the steering wheel, the dashboard or windshield during minor accidents.
Tips For Smart Snacking
Be careful of between-meal snacks.
Clear the snack from the teeth as soon as possible. Even a simple swish and rinse with water will help.
Do not let snacks take the place of nutritionally balanced meals.
Drink WATER
Download No Cavity Plan for Teens